Production Technology
APP's innovation goes well beyond VCM technology. We have developed revolutionary manufacturing processes, CCM tuning systems as well as testing equipment to complement our patented VCM technology.
VCM Manufacturing Technology
Traditionally, VCM manufacturing relies heavily on intensive manual laboring.  This presents a real challenge to the overall labor management, quality, as well as scalability in the production capacity.  Other VCM manufacturers have made attempts to address these issues by investing in multi-million dollars automated production lines.  These are worthy improvements but come with a huge cost.  In addition, these automated lines are inflexible.  Any changes to the VCM design or manufacturing process will result in major modifications in the production equipment.  This is both costly and time-consuming.  The result is higher manufacturing cost and longer lead time.
We have developed a revolutionary manufacturing process to overcome a lot of these challenges.  Our patented manufacturing technology focuses on the following key areas:
 scalability of the production capacity
significant reduction in manual labor requirement
breakthrough advancement in soldering processes
production agility 
low-cost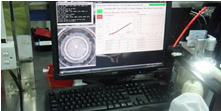 We accomplish this by introducing our patented large scale batch processing techniques.  This revolutionary methodology employs high precision jig and fixtures to achieve the needed precision throughout the manufacturing process.  In addition, this technology utilizes cost-effective off-the-shelf standard glue/solder-paste dispensing machines.  There is no need to rely on highly customized automation machinery.
High CCM Yield by our unique CCM Tuning
For optimal performance, each OIS CCM has to undergo a tuning/calibration procedure to account for the slight variations found in the CCM components such as gyroscopes, VCM and etc.  APP has developed a very powerful, cost-effective and easy-to-use auto-tuning system for the manufacturing and tuning of OIS CCM.  The overall process is extremely streamlined (short cycle time i.e. HIGH efficiency).  And the CCM yield is amongst the highest (HIGH yield) in the industry because our tool allows for compensation of each CCM.  The entire tuning operation has been reduced to a one-click procedure without the requirement of any expensive and/or tailor-made equipment.
VCM Testing
APP has also made significant breakthrough in VCM testing technology.  Traditionally, mainstream VCM testing equipment utilizes laser-based equipment to test and verify VCM characteristics and performance.  In most cases, it requires the insertion of a dummy lens into the VCM under test in order for the laser to detect the movement of the lens carrier (one of the parts inside the VCM that hosts the lens). This method is very time-consuming, and more importantly is prone to pollution due to the generation additional contaminants (particles) from the dummy lens insertion.
We adopt an optical approach in VCM testing.  This patented technology is highly accurate, efficient and non-intrusive in a sense that no dummy lens insertion is required.  The result is better VCMs.