Our Lens Tilting Technology
Our Lens Tilting OIS technology achieves Anti-Shake function by tilting the lens inside the camera.  The shake motion of the camera during exposure is detected by gyro sensors and optical components are tilted in such a way as to counteract the motion, and thus resulting in blur-free photographs. 

APP's unique OIS lens tilting method is a patented technology that lends itself to realize both OIS and AF functionalities in a very elegant and simple package.  The lens shifting technique employs a much more complicated mechanism to realize both AF and OIS functionalities.

OIS CCM
Below is the block diagram of an OIS CCM (Compact Camera Module with Optical Image Stabilization).  It mainly comprises lens, OIS-VCM, OIS-Driver-IC, gyroscope and an image-sensor.  Lens & image sensor are the fundamental parts of a camera module.  To realize image stabilization, gyroscope detects the vibration signal and passes the data to our OIS Control IC, which then instantly analyzes the data and controls the VCM to tilt the lens to counteract the vibration.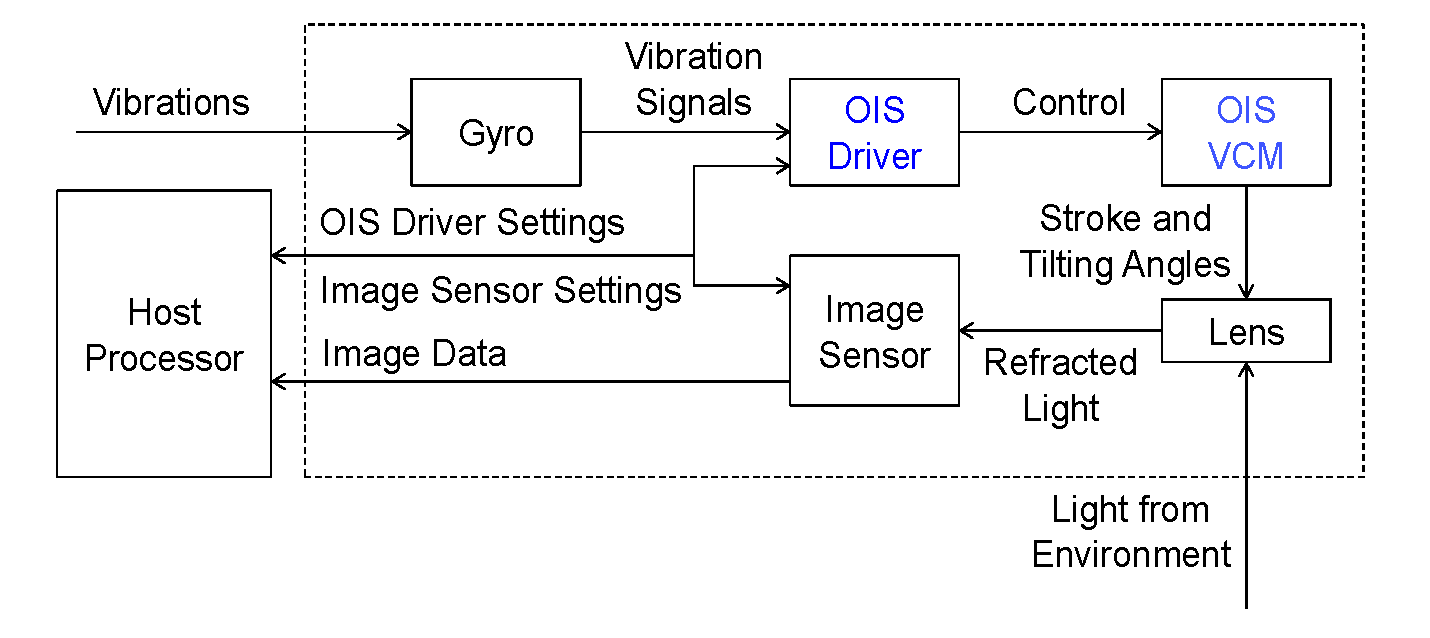 Our OIS Control Firmware (OIS Driver)
 

Since the OIS CCM requires gyro sensor information as an input to counter the hand shaking, the sensor reading has to be analyzed at a high speed without much latency.  This computation is handled by our proprietary advanced OIS control firmware.  Complementary to our patented OIS VCM design, the control firmware (executed by the dedicated controller IC) is executing very sophisticated algorithms specially design for OIS.  It executes at a whooping 2KHz resulting in ultra-fast response to any of the external vibrations or hand-shakes.  The result is a very responsive OIS system. 

In addition, the control firmware has several built-in operating modes to provide maximum flexibility for various shooting scenarios. For instances, panning mode, often found in more expensive DSR lens, is readily available to the user.

Video Mode

>

This mode is optimized for taking video clips.

Still Picture Mode

This mode is optimized for taking picture snapshots.

In either video or picture mode, the control firmware may switch into one of the following modes for optimized performance:

Panning Mode

When a moving subject is involved, the tendency of the user is to pan the mobile phone camera to track the moving subject.  This panning motion could be misread by the OIS system as a shaking motion and the OIS could interfere with the actual picture/video taking.  When the control firmware detects that it is undergoing an intentional panning, the OIS action will be turned off automatically along the direction for which there is panning.  And OIS remains active in the direction perpendicular to the panning direction.

Tripod Mode

The control software automatically enters this mode if no hand-shaking is detected.  This mode yields excellent quality in either taking video or still pictures.